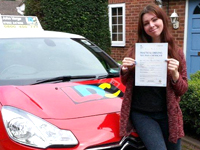 Sadie
My experience with john as a driving instructor was brilliant. He made me feel at ease and was a good instructor. I'm 24 and I have had a few instructors due to one leaving, another taking money and not seeing the instructor again, and one being aggressive towards me when I made mistakes. In johns case there was no need for me to worry there as I was able to trust him and he genuinely has a nice personality.
Of course we all need to earn a living but with john he always told the truth on when and where I was with my driving skills and he helped me pass my test 1st time with just 1 minor. I am so delighted to be driving finally after 4 instructors, and my 4th being john who helped me pass my test! I Highly recommend john to any one, as my friend Emma recommended him to me.
About the car I drove in.. It was a lovely smooth car a Citroen DS3 which I learnt nicely in and for the months I was with john as a pupil I enjoyed driving it. Thank you to John I now have my own car and the adventures start now! All the best to john and any new pupils! Girls and boys he's not a money grabber I ensure you of that!
Thank you Sadie for your kind words, it was never in dought, we just had to get the better of your nerves and it was job done. You were lovely to teach and it worked out really well, keep in touch I'm always hear for you, enjoy your new freedom but please keep it safe. All the best John.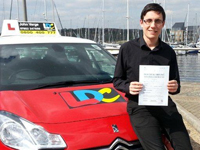 David Morrad
John was recommended to me by another driving instructor who didn't operate in my area.When I started the course, I had not had any driving experience before. I found it quite difficult, but John was very patient and fortunately has a good sense of humour. He was calm, very encouraging and easy to get along with.
The LDC system was helpful because it enables you to take what you learnt in the lesson and enhance your skills and knowledge in your own time.
The Citroen DS3 D Style is a great car = it really grows on you. Its easy to handle and a good car to learn to drive in. I really enjoyed my time learning to drive with John and would highly recommend him as a driving instructor.
Thank you John for going the extra mile with your help and getting me through my driving test.
David you certainly wasn't a natural driver but you worked hard and stuck at it and we got you there in the end. You turned out to be a very competent and safe driver, I certainly felt very comfortable sitting beside you towards the end or you training, A big well done from me.
Keep it safe David and enjoy your new world on four wheels.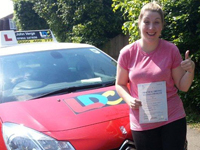 Chelsea
After discussing the different options of learning to drive with John I knew I had found my ideal instructor. He was honest, down to earth and made me feel at ease. The lessons were enjoyable as well as being very easy to gain knowledge and experience.
The LDC system is very effective with the added advantage of the workbook and DVD leaving more time free in lessons to maximise driving time.
Johns car is a Citroen DS3, it is lovely to drive and I'm going to sadly miss spending time behind the wheel.
Well done Chelsea, you done very well and took to driving like a duck to water. Enjoy your driving and please stay safe especially with your little one on board.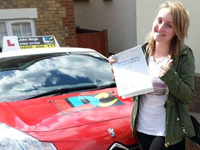 Katrina
First of all a massive thank you to John and all his patience with me in getting me to pass my test!! :)
I had driven with a different instructor previously which made me a bit cautious to drive again but John is fantastic at making people feel at ease and he definitely helped me to enjoy driving again rather than constantly being nervous behind the wheel. It took me a few attempts because of my nerves and silly mistakes but 4th time lucky and I passed with only 3 minors. John is a fantastic instructor and recognises what you need help with whether its nerve related or driving skills. He helped me become a confident driver as well as a good driver. John is very easy going and a laugh so it makes learning to drive a less boring experience! I would definitely recommend John to anyone I know who is considering learning to drive whether they are completely new, or coming back after a long break. I took a couple of years off from driving after my first 3 tests and John was patient and understanding during that time. When I started back again I was on the road in no time - even after my nervous breakdown on the day of my test, during which John was there to snap me out of it!
The car itself is fantastic, I don't really have much to compare it too but it caters for those of us who are slightly vertically challenged and is a very smooth and economical drive!
Once again thank you very much John for all your hard work and patience with me and words of wisdom to give me the confidence I needed to pass my test. All my best, Katrina :)
Your very welcome Kat, we did have a few moments and a few giggles, but you stuck to the task and with a little shove or two in the right direction from me you did it. It was lovely to see you at the weekend, thank you for taking the time to come and see me and show me your new car. Just take your time and get lots of experience under your belt, but most of all please keep it safe.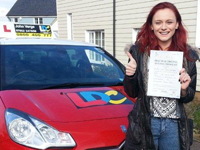 Eliza
I originally began driving with a different instructor, but it didn't work out as after 20 hours of driving with him I still had not gone to Gillingham which really knocked my confidence, feeling like driving wasn't for me I gave up for months until I decided to call John ( my sisters instructor ). My confidence grew slowly every lesson.As my first lesson with John he asked me to do a series of figure of eights in the car park realizing I knew the basics he told me to drive straight to Gillingham; from that moment on I became so much more confident purely down to him as an instructor having confidence in me. John always kept lessons fun which always made me relax, as I used to get very frustrated with myself if I made a mistake, however John always calmed me down. I had a very tough time with my driving test down to family issues but John always listened when I needed to talk to him about it and was always very supportive. My confidence had grown so much through Johns help and he helped keep my confidence high after every test. Its obvious John does really care about his students as he was genuinely as gutted as I was when I failed 4 times down to my own silly mistakes.
AS others have already said the car really is great! It's new and extremely easy to drive and my Renault Clio doesn't have the same effect sadly, but I'm getting used to my car already. If I could afford it a Citroen DS3 would be my first car especially in the same red. It's definitely the coolest learner car I've seen.
LDC has a great system of keeping track of lessons as John has a book you will sign off after every lesson.and he will also sign your book too so you both have a record of what lessons have been taken, booked and paid for. As it can always be a thought whether you're paying to much but I felt my money was completely safe with John.
It was a pleasure being taught by you John, I had so much fun. All the best Eliza.
Well Mrs., what can I say, we did have a few giggles along with the tantrums but you worked at it and we got there in the end. Enjoy your little Clio and drive safely.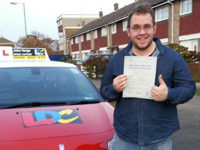 Matt
I spent a lot of time scouring the web for the best course to take when I first wanted to start learning to drive. After calling around to a few big names and getting the usual 'come now, get a deal' approach many of them had I came across LDC and ultimately John. I originally wanted to go straight for the crash course approach but John was fair and honest about them. He told me it would be far more productive to just do a one hour assessment lesson and see where it was best to go from there. After that hour he gave me an overview of how well I was doing and how many hours he thought I would need. John has an amazing ability to keep people calm during the first few lessons which is basically all nerves. He pushed me to what he thought I was able to handle. If I did something not quite right, he would give me precise tips on how I could improve it. I never felt pressured or disheartened from anything he taught me. As a person he is a very kind man and always cheerful. He can make you laugh and forget anything you had been beating yourself up on to do with something you messed up like stalling or being a bit heavy footed with the accelerator. The car itself was great to drive. It took me a few lessons to get used to just how light the steering was and just how quick I flew away with just a touch of the accelerator. I would recommend anyone who is starting to drive that you give John a call.
After my assessment lesson, John told me about the LDC book and DVD he had available. I didn't think it could hurt so I took one of each and I am truly glad I did as they aren't expensive. He gave me 'homework' after each lesson depending on what needed improving. The sections were all clear and precise, had a little quiz which was good and had in depth information on everything you needed to know. The DVD was great as it showed you at a good pace what you needed to do at each moment and really helped me on when I should be checking my mirrors. All in all I don't think I could have had a better teacher or more fun learning to drive then I did with John.
Thank you Matt, yes we did have some fun, but you took it seriously when needed and made very quick progress, well done on passing and enjoy your driving, but please keep it safe. All the best John.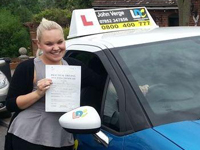 Vicky
I first decided to learn to drive with John after my two cousins had used him and said how great he was. I had previously used another company and had a few lessons with them but I didn't seem to get on with my instructor or there way of teaching! Luckily with John I had neither of these problems.
When I first started learning how to drive I realized that I did not come naturally to me but John was very patient with me and kept me motivated to keep trying and never give up. After A few more lessons my confidence grew and I become a better driver! John the whole time was so nice and always reassured me that he would get me through this and see me through my test. Eventually I took my first test and unfortunately I did not pass. After this knock back I had a break from driving but John keep getting in contact with me to make sure I did not quit. I then started my lesson again to get me ready for my next test. When I was ready we went back in for my next test and through making silly mistakes It took me until my 4th test to finally past!! John was just as disappointed as I was when I didn't pass and was so happy for me when I finally did!
Without John I feel like I would never have passed my test I am now a confidant driver and it is all thanks to John! Not only is John a lovely man, and a great teacher his car is lovely to drive so much so I'm now saving for my own!
I highly recommend John and can never thank him enough for all his hard work and patience with me!
Vicky, just like your brother you was a pleasure to teach, it took a while but you persevered and we got there in the end. Enjoy your driving and please keep it safe.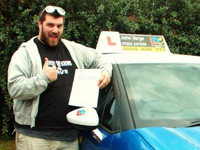 Tim Arlington
Sweaty palms, rumbling stomach and the odd bit of nervous wind were the only issues I had to deal with on my test day, because everything else had been thoroughly taken care of by john.
With his clear yet calm approach to instruction and his attention to detail on the areas needing a little more improvement, within no time at all I was ready for my test, and feeling confident about it too! Along with books and DVD's John could provide, I was prepared mentally and physically for both the theory and practical tests. The car was lovely to drive and John made the whole experience of learning to drive, which is normally scary and daunting, actually a pleasant and fun experience.
Thank you John for helping me to achieve something I thought I never would, and giving me the freedom to take my family out and to get a better job as I was now able to travel further afield. To me this is invaluable and I really cannot thank you enough.
Tim it was my pleasure, you were an easy pupil to teach and really made my job easy. Enjoy your new world on four wheels and please stay safe, especially with your young family on board.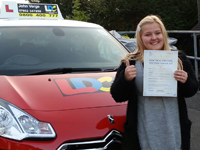 Emma
Great instructor - Well what can I say?...
I started my driving with TopClass and I didn't feel I was getting anywhere with only about 6 lessons with them. So this meant I decided to move on and look for someone else to drive with and John was recommended frequently. Therefore, I chose him.
The LDC System is just excellent. This is because it is very helpful yet very simple. The system includes having a workbook and DVD to work from. After each lesson you write down what you had done on that lesson and homework to complete ready for the next lesson. (You are expected to do this homework!) This is so it ensures you have a basic understanding of what you needed to know for the next lesson. I therefore feel the LDC System is a very useful part of your driving.
The car you drive with John is a Citroen DS3. This car, well I fell in love with it. It was lovely to drive. At first I was a bit wary of getting in a completely different car but as soon as I was on the roads with it I loved it. This is because it was comfortable, smooth and easy (as I am only tiny, 4ft 11 it has extended pedals for small people :) I kept going on at my dad to get one when I pass my test but it didn't work :( I will really miss this car and the drives in it.
As soon as I saw Johns' page I knew I had made the right choice. John came round to see me and introduce himself and explained how everything works and what goes on during lessons with him. He offered to take me out for a drive to see how the car works and I was amazed! My first lesson I can honestly say I was so nervous (as you would be) but I drove around a car park for 5 minutes and I was on the roads straight away! I can honestly say I enjoyed every moment. I had only 20 hours with John and not one lesson could I turn around and say " I really didn't enjoy that lesson". John is such a lovely guy who makes you feel comfortable, makes you constantly smile and feel good about yourself from the compliments given throughout driving. He makes you feel at ease due to laughing and joking around with you as well as learning to drive safely. (Especially us girls/ladies who can multi-task haha).
The day of my test, at first I was letting the nerves get the better of me until John calmed me down and assured me I could do it. Throughout my test I just kept thinking "what would John be telling me here?" And this really helped. All I wanted to do was make him proud and I am sure I did with the grin on my face as he walked over to the car whilst my examiner Martin was signing off my sheet. I will truly miss driving with such a great instructor but I have made my promise to John of keeping and driving safely for the next 3 months!
Once again John, thank you ever so much for everything and getting me through. I will miss you. But still have that smile on my face about passing first time with just 3 minors! Woohoo!!
A big well done from me Emma, although it was never in doubt to me. You worked hard and thoroughly deserved the fantastic result you got, just 3 minors ( and I thought they were a bit harsh ). Just take it easy for your first few months and don't be too adventurous, give yourself time to get some experience under your belt and you will be fine. Enjoy your little car and the independence it brings but most of all keep safe. I'm always here if you need any advice so don't be afraid to call.
All the very best, John.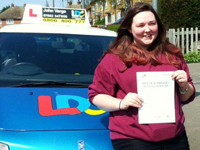 Dee Ambrose
Immediately after finding John's webpage I had a gut feeling that he was the right instructor for me. I plucked up the courage and booked a semi intensive course straight off. He made me feel incredibly comfortable and at ease as soon as I got in the car. John knows how to have a good laugh and be a great teacher at the same time. Despite me failing a few tests (due to test nerves, nothing to do with John), he was very supportive and made me feel like I could do it. On the test I could hear specific phrases he frequently said during lessons, which helped so much by keeping me calm and focused. I will continue to recommend John to friends and family who are wanting to learn to drive.
The LDC system is brilliant. It's very clear and straight forward. After each lesson I was given a couple of sections to study over and answer questions about. There's also a DVD to watch, to remind myself of things we have done during lessons. Keeps everything fresh in your mind.
The Citroen DS3 is wonderful. It's immensely comfortable, smooth and makes you feel very safe. The visibility and the control of the car are great, too. I can only hope the car I get will compare just as well.
Nerves did play a big part in your first couple of test, but I knew you were good enough and you eventually proved me right. Well done Dee you thoroughly deserved it, enjoy your driving and please keep it safe.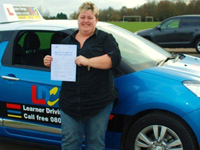 Michaela
After deciding to go back to learning to drive I was recommended John by my future sister in law. I was very nervous about being in a car again as I had not been in the driver's seat since I was 17. John was very pleasant and funny and soon put me at ease. Every lesson he would talk about what we were going to do and went through the theory behind it before putting it in to practice. The LDC course focused on a particular section each lesson and the homework set reflected on what I had already learnt that week. Not only did I have the handbook but I also used the DVD accompaniment which again helped to reiterate what I had been taught by John and the handbook.
I had the pleasure to drive both the Hyundai i20 and the Citroen DS3. It was in the Citroen that I actually passed my test. It was a very comfortable drive and for a woman like me who is short and of the larger build I found it very easy to feel settled in it without feeling squashed or having to reach for the pedals. Its ease of turning helped me to perfect my manoeuvers. The Citroen also was a very smooth ride and I found it a real pleasure to drive.
John is a very patient and friendly instructor who never fails to put his pupils at ease. Whether you are a first time learner or returning again after many years he will help you to pass and works on your weaknesses and your strengths. I had problems with roundabouts and John always found me at least one roundabout each lesson to get me over my fear. Nerves would hit me every time he mentioned test but he always managed to calm me and had faith in me that I would do well even on my mock tests that he would set at regular intervals. I could not have passed my test if it wasn't for John's professionalism, patience and lovely personality. Even now a year after passing I can still hear John's voice instructing me and guiding me . Thank you John you were AMAZING!!!!!
Thanks for the kind words Michaela, ok after a push and a shove in the right direction, we managed to kick your nerves into touch and with lots of practice we got you around the roundabouts and into the test centre. Well done Michaela, you made it. Enjoy your driving, but please keep it safe.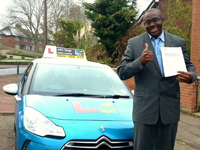 Raheem
The LDC system seems like one of the most comprehensive of its kind, since my course was a semi intensive 16 hours course. I needed to be at my best very quickly in a short time and I think my driving instructor Mr. John Verge understood this so was very patient with my slow start to learning, I was a mature student in the Ldc driving semi intensive course and found him very polite, courteous and helpful who has a very vast knowledge and experience especially how to focus for the test. I would recommend the LDC system for anybody especially if you need more confidence. It helped me immensely when I followed the system completely and thoroughly although it seemed a lot work when I started doing it I realized it was very simple to use and soon got through it very quickly.
The Car.
The car that John's driving school uses is great very nippy very responsive and very modern Citroen DS3. It is has a great throttle response and is comfortable even for a guy who's extremely tall like me.
John Verge.
Mr. John verge is simply a great instructor he has immense experience, coupled with vast technical knowledge on everything that needs to be known about Driving, the Road and cars. Polite and courteous friendly and affirmative. He is a people person that's why I would recommend him to anyone who needs that down to earth personal no non-sense Driving test instruction. Thanks John, Thanks LDC.
Many Thanks, Raheem.
Thank you Raheem for those very kind words. Yes you were a little slow getting going, but you soon got to grips with it and achieved a great result in passing 1st time. A very BIG WELL DONE from me. but remember enjoy your driving but please keep it safe. All the best Raheem.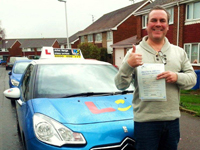 Andy
After phoning a few instructors I finally spoke to John and he came across as an honest and down to earth bloke so I decided to go with him. I must say it was certainly the right decision. John is a nice bloke to get on with and his teaching methods are great. John is very relaxed which in turn puts you at ease making the whole process stress free and fun. John has some very good tips that will help you with some of the more tricky manoeuvres. I passed first time and I can honestly say I would not have without Johns help and tuition. I would not hesitate to recommend John to anyone and in fact the first thing I said to my daughter is that she should use John. All the best John and thanks again.
Thanks for the kind words Andy, it was my pleasure, you were a good student and made my job easy. All the best to you and please keep it safe.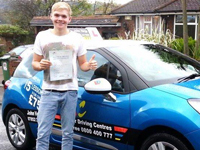 Lewis Sage
I chose to learn with John upon recommendations of both my two cousins and my elder sister. I was nervous about what driving lessons would be like, as I had heard of friends not getting along with their instructors and so on. However, I experienced no such problems with John! Straight away I found that John had a very friendly manner that made me feel relaxed. It wasn't long until I learned that John and I shared a mutual passion for fishing; this was one of many topics of conversation that John and I shared whilst I was learning to drive.
The only form of driving I had done prior to learning with John was in an empty car park. However, John soon had me behind the wheel and driving on the road! After every lesson John would set me homework from the LDC workbook or to watch the corresponding parts of the LDC DVD. This proved a great help and allowed me to get through content far more quickly than friends who had been learning for far longer but were only at the same point as me! The LDC system undoubtedly saves you many hours and a lot of money!
Unfortunately I didn't pass my test first time, however this was purely down to a silly mistake on my behalf! John was just as disappointed as I was as he genuinely does care about his students. That night I rebooked my test with the help of John over the phone. I had one more lesson and a few weeks later I passed with just one minor.
Johns' car truly is a fantastic drive. The smoothness, control and comfort you feel in Johns' car makes it an ideal car to learn in. Performing manoeuvres in the car were very easy and it is not until attempting these manoeuvres in my own car that I can truly appreciate just how good his car is! I would recommend John to absolutely anybody as he is so easy to get along with and the LDC system is second to none. Learning to drive with John was a pleasure.
Thank you Lewis, the pleasure was all mine, you are a polite young gentleman, you listened and generally took on board everything that you were told. There was never a problem with you doing the homework, you worked hard and thoroughly deserved to pass your test and was very unlucky not to get it first time, just one minor on your second attempt shows that you were absolutely ready and you did a great job.
Don't forget, if you have any driving related problems in the future I'm always at the other end of the phone.You are a credit to yourself and to your parents. I hope they are very proud of you, they should be.
All the very best to you Lewis, enjoy your driving, but please keep it safe.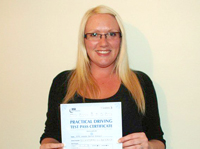 Angela Stanley
Learning with John was a great and enjoyable experience, he put me at ease. His learning techniques are remarkable, and gave me a great understanding of how the car works and helped me understand how the clutch worked (biting point etc) John knew I was nervous about learning to drive but he helped me overcome my nerves and gave me confidence, he gave me praise when I needed it and great advice to improve on my driving.
When studying from the workbook at home I could ring him and ask for help too, he's always there to help you.
John got me through my theory and practical first time!! By far John is the best instructor I learned with.
I have highly recommended him to people I know that want to learn to drive. To add to John being a fantastic instructor, he is also a lovely person too, and I thank him so much for getting me through my tests. I love driving!
Thank you John.
Thank you Angela, you were a pleasure to teach, I know you were very nervous to start with, but with a shove in the right direction from time to time, I knew you could do it, A Great Big Very Well Done from me, keep it safe.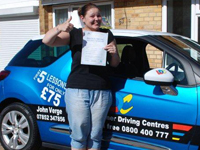 Amy
The LDC system is a great way on learning how to drive with guidance for all the basics on driving such as Gear changes, reverses etc, with an easy to read Book with step by step learning and questions with a DVD also to help you.
Johns car is a Citroen DS3, a great little car and great to use as well with all the little gadgets that makes it fun for younger drivers.
I couldn't imagine driving with anyone else but John! He's great to learn with, he's easy going and very laid back and is excellent with nervous drivers. He helps build confidence and never raises his voice and always remains calm. The other best thing about John is you don't feel your learning how to drive, you feel like you're out driving with a friend! He really helped me with learning how to drive as I had a bad experience previously and I wasn't sure whether to start driving again but John always knows what to say and his kind and laid back nature could relax anyone! I owe a lot to John as he helped me learn to drive and pass 1st time!! And also put up with my blonde moments too without making me feel stupid :). I can't thank John enough for what he helped me do and anyone could find it easy and enjoyable to drive with him. John is also there for you after you pass, which is also another great aspect with him. I loved learning with John he made it fun and enjoyable but also serious in your driving. I now feel I've gained a friend after this experience and couldn't be happier with the person I learned with!!!!
Amy, you were a pleasure to teach, as you say we had a few giggles. but whenever the situation demanded, you took it very seriously, you worked hard and yes I had to push you at times to build your confidence and overcome your nerves but you made it and obtained a fantastic result and passing first time, WELL DONE YOU. Enjoy your driving but Amy please keep it safe, all the very best. John.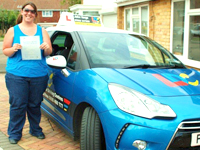 Lesley
A very good friend learned to drive and passed her test with John and couldn't recommend him highly enough. So when I moved into the area I contacted John and after a chat with him to gauge my previous driving experience, we agreed that I would probably only need about 20 hrs of tuition, which I booked! Straight away John put me at ease and made me feel less nervous with each lesson! John has amazing time keeping and his car is a dream to drive, it's so smooth and has some fab eco-friendly options.
John is a very patient instructor and but also firm! I was very comfortable learning with John, it was so nice to finally have an instructor who took it at my pace instead of trying to hold me back. I have already recommended John to another friend and would continue to recommend him. Having my license has given me the freedom I need to take my 8 month old everywhere without having to rely on public transport, which is a major plus!!
I love the LDC System! The homework is brilliant and helps you to progress through your lessons. The DVD was also a brilliant tool as you're able to watch each lesson to get an idea of manoeuvres etc before you look at each chapter in the workbook. It doesn't take long to work through the chapters and is a massive help in my experience.
I have to say that I put way too much pressure on myself to pass first time and when I didn't I wasn't a happy bunny to say the least. John had taught me everything I needed to pass but on the day my nerves got the better of me and as a result I couldn't parallel park for toffee! If it wasn't for John's approach and advice, I can honestly say I would have given up there and then
I can't thank you enough for taking the time to help me learn to drive John, it truly has been my pleasure and I'll miss my lessons, honestly!!
Lesley once we had sorted out the giggles we started to get somewhere. You made my job easy apart from the giggles and it was fun teaching you to drive. Really hope you enjoy your new world on 4 wheels and the independence it gives you with baby Jake. All the very best and please keep it safe, John.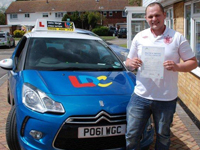 Will Stephenson
Passed my test first time with John. He is a very happy man he knows how to relax people which helped me a lot on my test day as I was nervous. The LDC system works I was with many driving instructors before John and I found his method of teaching very encouraging and positive. John himself is a very nice man loves a joke and easy to talk to, and the car is awesome. Just going to end this with a big thank you to John for getting me through it you never doubted me even if I doubted myself thanks mate.
Will you were a pleasure to teach, you listened and put into practice everything you were told. You are not such a bad bloke yourself, it was fun teaching you we had a few laughs but we got the job done. Well done Will, please keep it safe. All the very best in your new world on four wheels, John.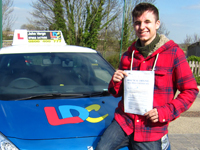 Daniel Sampson
I found John to be a great driving instructor, he is open, friendly and has a naturally jolly nature, he is always calm and really good at building confidence, he never raises his voice, and always gives great advice and positive feedback. I would certainly recommend John to any one wanting driving lessons. At first I was nervous, but John's bubbly, gentle personality and his teaching skills had my confidence sorted in no time at all. I thoroughly enjoyed and looked forward to all my lessons with John, and am pleased to say I passed my test within two months of starting lessons with him.
The LDC system that John uses is brilliant, it is extremely helpful and informative, and the accompanying book and dvd are clear and easy to follow and enables you to learn in the comfort of your own home the knowledge required to become a safe driver without having to waste time during your actual driving lessons. I found it was really helpful in building up my driving knowledge quickly.
The car is amazing, it is very modern, is smooth and comfortable to drive and handles incredibly well. The powered steering makes all manoeuvres easy, it has brilliant all round visibility and overall it is a fantastic car to drive and a perfect size to learn in. I only wish I could afford this car now that I have passed my test.
I would like to give John a huge thanks for helping me get my licence and making the whole experience an enjoyable one.
Well done Dan, after a very nervous start, with a push and a shove from me, we got you moving in the right direction and, with a little patience on both sides, you turned into a very good and safe driver.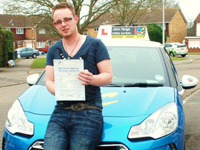 Aaron
I had been learning to drive for three years with no luck on getting to my test then I met John a fantastic man, funny and has a very relaxed teaching style. I felt I could be comfortable and relaxed and really enjoyed my lessons because of this. I loved the car, it's very responsive and easy to drive and an all round fantastic car. I enjoyed learning in it. I enjoyed my whole experience from the driving to the way John taught me. He made it easy for me to learn and it's all thanks to him that I passed 1st time as I was getting no where with my previous instructor. I have and would recommend him to anyone, working with John and the LDC system you're sure to do well.
Well done Aaron, you worked hard and you deserved it, in the end it was never in doubt, enjoy your driving and keep it safe.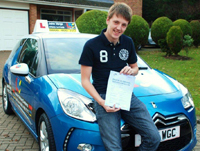 Paul Jefferies
I first decided to go with John as he had taught my brother Adam and came very highly recommended so straight away I booked up almost as soon as I was able to! Straight away I clicked with John, perhaps it was his love for motorbikes or most likely it was just his open friendly personality which made me look forward to my next lessons. He showed me the controls in the car and by the end of my first lesson he had me driving home!
The way the LDC System is set out in the order of which you learn is brilliant, it progresses you step by step without making it long winded but still making sure you're a good safe driver. The DVD and workbook saves a lot of time explaining and testing, that's wasted with most other driving instructors, so if your prepared to do the homework it can save you a lot time and gives you real value for money.
I'll admit I didn't pass first time but that was because of my own dopey mistake and John understood and, after a laugh and joke, I was back on board straight away and ready to go again passing with just two minors. He really knew how to cheer me up and make the lessons enjoyable rather than waking up and not wanting to have my lesson. His punctuality was second to none, turning up at my house spot on time without fail.
The car is, I'd say personally, the best possible car to learn to drive in, it's so smooth, small and with lots of visibility all around, I've yet to find a better car! On the whole then I'll recommend John to everyone and anyone as I have been doing, you won't find a better driving instructor out there honestly!
John says, Well done Paul, but you really should have done it first time, I hope you keep an eye on the Speedo now, Ha Ha.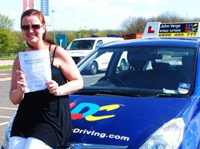 Jacque (37)
I recently did my driving course with John's LDC driving school. Originally I chose to do the 30 hour intensive course. However, John advised I break it up a bit and do it over the four weeks whilst waiting for my test date. It was the best advice ever as I had at least six hours per week leading up to the test, which kept all the information you have to take in refreshed and I was ready to do my test and PASSED first time.
John was a very patient instructor and although keeping me on track he also let me proceed at a pace I was comfortable with. I was a very nervous driver in the beginning; it was such a pleasure to finally have an instructor who never raised his voice. John is very encouraging and only gives constructive criticism which is so helpful. I also did my pass plus straight away which really helped with motorway training especially and I definitely recommend it as it covers night driving, weather conditions etc.
I recently went on holiday back to Southern Africa and what a pleasure it was to have the freedom to go where I needed to, without depending on other people.
You are never too old to learn and having my drivers' license has opened endless doors and opportunities for me. John you are so amazing and I am eternally grateful that I got you as an instructor and a friend.
My pleasure Jacque, you made my job easy and were a model pupil, I'm only sorry that you had to suffer a couple of bad experiences before we got together.
All the very best in your new world on four wheels and please keep it SAFE, John.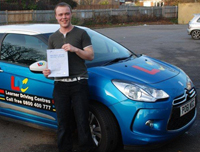 Lee Bunclark
Learning to drive with John was a fun and pleasurable experience, I looked forward to every lesson as I could see myself improve after each lesson that I had. When I started I had no previous driving experience and was pretty scared to start driving, but John put me at ease right off. John took the time to explain the car, a really smart Citroen DS3, how everything works within the car and answered any questions I had in detail and was happy to answer any question I had at any time.
The workbook is a brilliant tool as is the DVD set that comes with it. It is all part of the LDC system John uses. John also uses a LDC presenter in the car that corresponds with every lesson in the driving skills workbook and the DVDs. This saves so much time in the car, therefore you spend more time doing the practical bits ie driving. The system works by you studying at home for about 18 to 20 hours, which also saves you money because it's done at home and not in the car, a saving of up to £400.00. It's great for you to read at home and do the quizzes and you know what to expect in the next lessons so you already have a head start, also when you need a reminder on anything you can just have a quick look and have the information.
John got me through my test second time (Only failed my first test due to one silly mistake! ) I also did my pass plus with John and same again full detail so I knew exactly what to do and what to expect.
John is a laid back guy and likes to make lessons fun and enjoyable while still getting the information and skill across to you. He is always there to help you if it is to do with the driving itself or the workbook. I highly recommend John to anyone who wants to learn to drive as he will get you through it! Thank you John.
Lee, thanks for the nice comments you have written about me. I would just like to add that teaching you to drive was a total pleasure, you listened and took on board every thing I told you, if only all pupils were as easy to teach! A big congratulations and a very well done Lee.
If for any reason in your driving future, you find yourself in a position that you don't understand or a legal matter please don't hesitate to call me, if I cant give you an immediate answer I will make it my bushiness to find you an answer asap.
All the very best Lee and please keep it SAFE. John.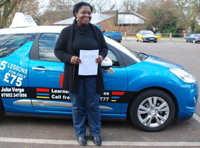 Annabel
I just want to say the biggest thank you and to tell you that you are a star!
John you are dedication personified, an excellent time keeper, thoughtful and honest. Although I failed my test first time, I have no regrets whatsoever choosing you as my instructor. We had our laughs, but in those jokes you told me the enduring words I needed to hear to pass my test second time because they were ringing in my head as I got to those roundabouts during my test and I remembered to lower my gear, my hand brakes and many more.
Thank you for giving me such an up to date car, I just couldn't have asked for a better car, small and cute, easy gear box just excellent.
Thank you John for being you and to your Fiancée Jill for wishing me luck, I am glad I did not bring any more shame ha ha.
Adam Jefferies
Another first time pass for John with me Adam Jefferies! When I first met John he came round to mine to find out how my lessons would best suit me and how he could work around my time constraints. Straight from the off I got the impression that he was a genuine guy who was interested in providing me the best service possible and I was indeed proved right once I began my lessons. On my first journey into the world of 4 wheels, I was, to say the least a bit nervous but John knew what to do and say to calm my nerves and make me feel comfortable. As the lessons progressed I grew in confidence as we grew a friendly relationship and I got to grips with the car. The car is such an easy car to drive with a large field of vision all round and great reference points for manoeuvres. I can't imagine any car could be as easy to drive. John is here to gain the satisfaction of getting his students through their driving test first time, not to rip any students off. He is an honest person and a great instructor, even if he is, as he would say "a bit of an old git".
After passing my driving test I decided it would be a good idea to take the pass plus course to enhance my driving experience and ability. At first I thought that it wouldn't make that much of a difference but as I progressed I found I grew so much more confident in my ability. The course covered a variety of areas which I had not encountered during my learning before my test. John structured it around me even taking me on routes that I would use on a regular basis going to work making me feel a lot more comfortable in knowing I was capable of completing my journeys safely. Best of all it is recognised by some insurance companies and will even give you a years no claims bonus in some cases or 10% off your insurance fees. I would recommend any driver to take this extra tuition especially new drivers.
Thanks again John.
I would just like to point out that Adam started his course on 1 November 2010 and passed first time on 10 December 2010 with just 2 minors which he acquired on his last manoeuvre back at the test centre - a bay park! So nearly a clear round. Very well done Adam.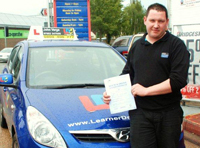 Brendan Wood
I've been driving on and off for about 4 years with numerous instructors. I could never pass my theory which meant I could never put in for my driving test. I heard of John Verge through a work colleague and he helped me pass my theory test and my driving test with just 9.5 hours of tuition. That was including the driving test itself. I had full faith in John and I listened and did everything he said and the way to do it. I passed first time. I would definitely recommend John to anyone if they wanted to pass their test quickly and to pass first time. Thanks John.
John says "well you can't get better than a Kwik-Fit fitter! can you"
Yvonne Jacobs
John is a understanding and very patient driving instructor.He provides lots of encouragement when needed .He doesn't teach you pass your test,but to be a safe and confident driver. Which made me pass my test FIRST TIME. I will recommend John highly to everyone.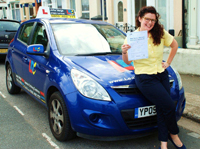 Lisa Doherty
I think finding a driving instructor is like finding a good hairdresser. Once you find them everything looks and feels better. My previous instructor didn't really talk much, lets just say he wouldn't have scored highly on a personality test.
So after a friend recommending LDC to me, I was finally on the right road. On meeting John I knew straight away I was in good hands.
John's a lovely guy who's fun, professional and from the word go believes in you and your driving ability. It took me longer to pass my test than I anticipated but with john's positive, caring attitude he made me believe I could pass my test. I would recommend John to anyone as he is a top bloke that wants to see you pass as much as you do. Sadly there are a few driving instructors out there that will string you along for a lot longer then needed. Not john, with him you will see your confidence grow and before you know it you will be a great confident safe driver. Having passed my test has changed my life, sounds cheesy I know. Do it, change yours!!!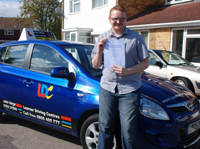 Rob Condon
John is an amazing driving instructor. He made me feel relaxed and comfortable straight away. His advice was really good and clear at all times. He boosted my confidence when I was not feeling very confident. He is easy to get along with and to talk to so that no lessons were boring. John did an amazing job in getting me to a level where I felt confident to drive in any situation! I always looked forward to my lessons and I would recommend him as an instructor to anyone and everyone! He will make you a confident and safe driver in no time! I shall strangely miss my lessons! Thank you John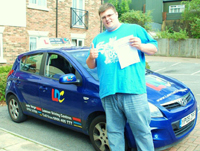 Ryan Leader
My lessons with John were very well planned and thought out and I would recommend him to anybody who's looking to become a good and especially a safe driver. Whilst John accomplishes this he also has a knack for making sure your driving experience is an enjoyable one. I was encouraged to challenge myself whilst making sure that I was never in any driving situations that I was not comfortable with. The 'homework' was thought provoking and useful meaning I knew what I would encounter in my lessons before they happened. The course materials were great overall whilst not costing a fortune. I passed my theory test extremely comfortably and my practical with only 4 minors. I would recommend John for anyone nervous about driving as I was put at ease immediately. Thanks for the help John, I couldn't have done it without you!